Operación Triunfo: The Evolution of Reality TV in Spain. Production, Scheduling Strategies and Audience Analyses
Palabras clave:
Reality TV, Audience Studies, Scheduling Strategies, Talent Shows, Operación Triunfo/Pop Idol
Resumen
Operación Triunfo (OT) was a Spanish talent-show launched in 2001 on TVE1, the main channel of the Public Broadcasting Service. This article synthesizes a ten-year study about the evolution of this reality game until 2011, when its eighth edition was suddenly cancelled due to poor audience results. Nevertheless, during the previous seven editions OT proved to be an effective product for its broadcasters, both public and commercial (Telecinco), even there were significant differences between how these two channels presented the contest. An examination of audience results is completed with a study of scheduling strategies and results show a quite different approach to reality TV: a shift towards a sensationalist approach did not pay off to the commercial channel's interests and the constant loss of audience lead to the premature end of the show. New talent-shows in Spain have readdressed this format successfully by privileging the artistic part over the sensationalist.
Descargas
Los datos de descargas todavía no están disponibles.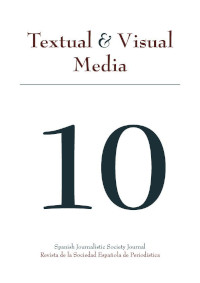 Descargas
Cómo citar
Monclús Blanco, B., & Vicente Mariño, M. (2017). Operación Triunfo: The Evolution of Reality TV in Spain. Production, Scheduling Strategies and Audience Analyses. Textual & Visual Media, 1(10), 83-102. Recuperado a partir de https://textualvisualmedia.com/index.php/txtvmedia/article/view/279